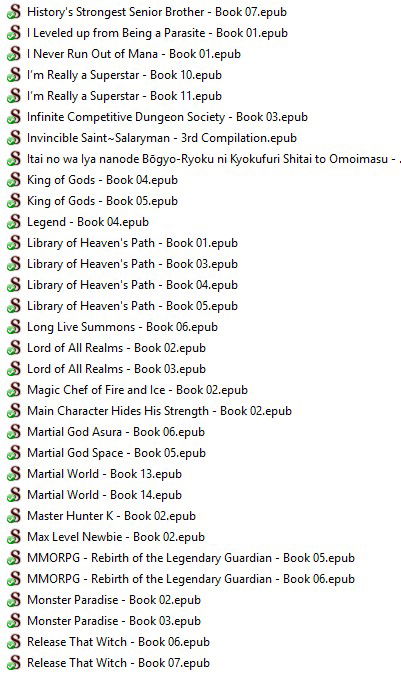 Last week has been a busy for me, at least. As i have no time to attend to these epubs.
And just when i'll have a larger slack time for other things, a tropical storm just hit my place causing massive flooding and lots of landslides at my workplace.
So all my plans will have to be put on hold, as i focus at work.
But enough about my life, here's some updates!
Oh, and for those new epubs. They are not yet present at the site. I'm encountering issues uploading them.
Patrons do get access to them, though!
p.s.
- yes, i've received some requests and are duly noted. no promises though.
- LD mentioned about missing chapter of martial world, chapter 924A. I've checked the epubs and they should be present....
- nikhil asked for PDF versions? Nope. I won't be doing that. EPUBS only!
- koinbra mentioned about night mode? Unfortunate, but there's no option for that.
- as for requests from xstarvenusx, it's been long overdue, but still, it's ongoing. (i'm having trouble with covers and all)